X-ray Flat Panel Detectors
TFT Panel with CsI and CsI Deposition
Below information is purpose for of development, design and production of medical device systems by implementing our company's products. Technical and regulatory confirmation/verification is necessary before purchasing and using of these products.
Customer can obtain own brand FPD with minimum development cost, minimum investment for manufacturing equipment, and shortest time. In addition, possibly to get a FPD with lower cost than purchasing a complete FPD.
Extraordinary performance guaranteed by Quadcel technology.
We conduct the business of CsI film deposition on customer-owned substrates. Please contact our sales department for details.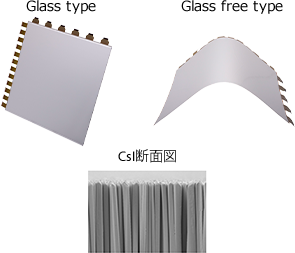 Lineup
TFT Panel with CsI and CsI Deposition Lineup
Inch Type
Model Name
Useful
Entrance
Field Size
Number of
Pixels
Pitch
(μm)
ROIC
Characteristic
Application
Down
load
TFT Panel with CsI
10×12
FM2530S-D6S
295x245
2108x1750
140
No
High DQE
Radiography
(Static) FPD
-
14x17
FM3543S-D6S
345x425
2466x3040
140
No
High DQE
Radiography
(Static) FPD
-
14x17
FM3543S-D6T
345x425
2466x3040
140
Yes
High DQE
Radiography
(Static) FPD
-
14x17
FM3543S-DMT
345x425
2466x3040
140
Yes
High MTF
Radiography
(Static) FPD
-
17x17
FM4343S-D6S
425x425
3036x3040
140
No
High DQE
Radiography
(Static) FPD
-
17x17
FM4343S-D6T
425x425
3036x3040
140
Yes
High DQE
Radiography
(Static) FPD
-
17x17
FM4343S-DMT
425x425
3036x3040
140
Yes
High MTF
Radiography
(Static) FPD
-