X-ray Tube
Dental X-ray Tubes
Below information is purpose for of development, design and production of medical device systems by implementing our company's products. Technical and regulatory confirmation/verification is necessary before purchasing and using of these products.
Dental/medical X-ray tubes (Marked "D") are mainly used in mobile and small portable dental systems and general medical systems.
Dental/medical X-ray tubes are stationary anode X-ray tubes, and are available in a variety of types including two-electrode tubes; three-electrode (self-bias focusing) tubes; single-focus tubes; and double-focus tubes. In an effort to keep X-ray generators small and light-weight, some tubes are equipped with an insulating cylinder and an X-ray-shielding lead cylinder.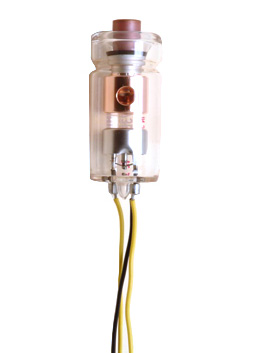 Lineup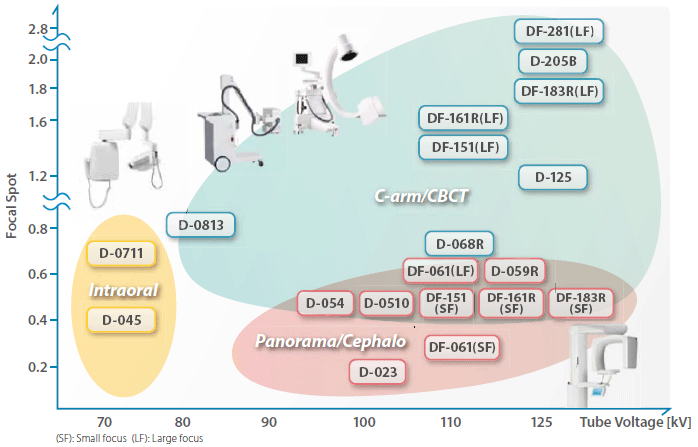 Lineup
Intraoral
Click photo to enlarge.
Dental X-ray Tubes Lineup Table
Image
Model
Name
(Series)
Focal
Spot
Max.
Rating
(1 s)
(W)
Max.
Voltage
(kV)
Max.
Current
(mA)
Circuit
Target
Angle
(degree)
Anode
Provide
Down
load
without
S
SB
Heat
Capacity
(kJ)
Cooling
Rate
(W)
Dimensions(mm)
Length×Diameter
D-045
0.4
585
70
12
C
12.5
4.3
100
66×31
72×38
72×42

(177KB)
D-0711
0.7
940
70
19.9
C
16
7
210
66×31
72×38
74×42

(228KB)
DG-073B-AC
0.7
560
70
8
AC
20
7
210
67×31
-
-

(229KB)
DG-073B-DC
0.7
560
70
8
C
20
7
210
67×31
-
-
Notes

Circuit
C : Constant Potential High-Voltage Generator(All tubes are center grounded)
AC : One-Peak High-Voltage Generator(Self-rectified)
Panorama/Cephalo
Click photo to enlarge.
Dental X-ray Tubes Lineup Table
Image
Model
Name
(Series)
Focal
Spot
Max.
Rating
(1 s)
(W)
Max.
Voltage
(kV)
Max.
Current
(mA)
Circuit
Target
Angle
(degree)
Anode
Provide
Down
load
without
S
SB
Heat
Capacity
(kJ)
Cooling
Rate
(W)
Dimensions(mm)
Length×Diameter
-
D-023
0.2
387
100
4.3
C
10
35
250
138×45
-
146×58

(192KB)
-
D-058R
0.5
675
70
13
C
12.5
13
300
82×31
88×38
88×42
-
D-054
0.5
1750
100
22
C
5
35
250
138×45
146×54
146×58

(208KB)
840
24
SF
-
D-0510
0.5
1270
100
22
C
10
35
250
138×45
146×54
146×58

(181KB)
-
DF-061
0.3
600
110
10
C
12
28
265
139×52
-
145×64

(195KB)
0.6
1200
20
-
D-059R
0.5
1300
120
20
C
10
28
250
-
-
166×66

(183KB)
Notes

Circuit
C : Constant Potential High-Voltage Generator(All tubes are center grounded)
SF : Two-peak high-voltage generator