X-ray Tube
3″ X-ray Tube Assemblies
Below information is purpose for of development, design and production of medical device systems by implementing our company's products. Technical and regulatory confirmation/verification is necessary before purchasing and using of these products.
CETD has wide variety of 3"Rotanode line-ups for various applications. We are proud of having one of world largest production.We can offer high-performance/reliability products using latest design and manufacturing procedures from our expertise technology. These products are suitable for Conventional Radiography to Digital Radiography and R/F equipment.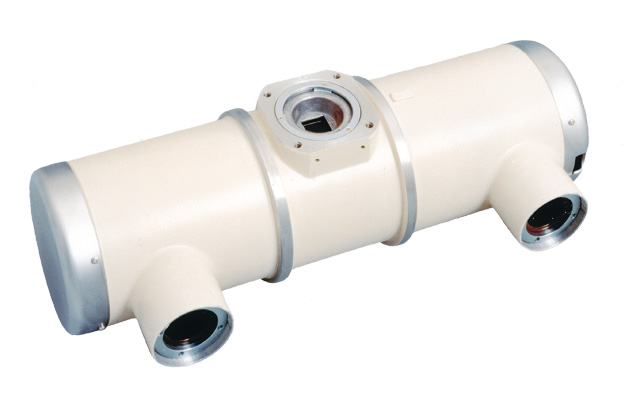 Lineup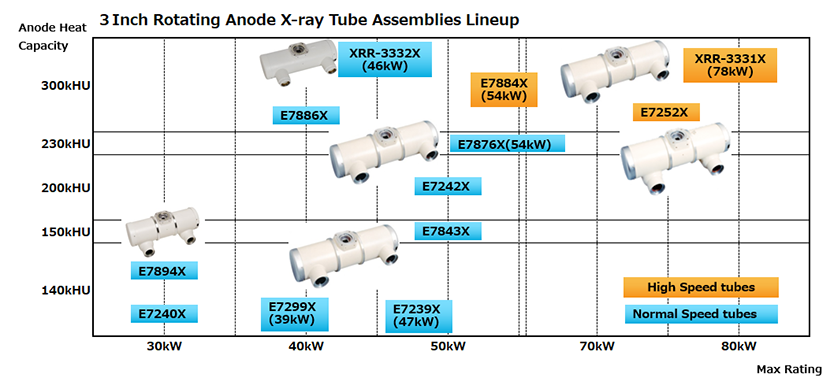 Lineup
Click photo to enlarge.
3″ X-ray Tube Assemblies Lineup Table
Image
Model
Name
Focal
Spot
L/S
Max.
Rating
(0.1 s)
(kW)
Max.
Voltage
(kV)
Max.
Current
(mA)
Anode
Housing Assembly
Down
load
Angle
(°)
Heat
Capacity
Cooling
Rate
(W)
Rotation
Speed
(min-1)
Housing Type
Stator
Type
(kJ)
(kHU)
X-type
FX-type
GX-type
E7894X
0.6/1.2
14/29
150
200/
500
12.5
100
140
475
2,700
XH-196
-
-
XS-BF

(270KB)
15/30
3,200
E7240X
0.6/1.2
14/29
150
200/
500
12
100
140
475
2,700
XH-
121
-
-
XS-AV

(401KB)
15/30
3,200
E7240FX
0.6/1.2
14/29
150
200/
500
12
100
140
475
2,700
-
XH-126
-
XS-AV
15/30
3,200
E7299X
0.3/1.0
3.4/35.5
150
70/
640
12
100
140
475
2,700
XH-121
-
-
XS-AV

(385KB)
3.7/39
3,200
E7299FX
0.3/1.0
3.4/35.5
150
70/
640
12
100
140
475
2,700
-
XH-126
-
XS-AV
3.7/39
3,200
E7239X
1.0/2.0
21/42.5
125
340/
570
16
100
140
475
2,700
XH-121
-
-
XS-AV

(420KB)
22.5/47
3,200
E7239FX
1.0/2.0
21/42.5
125
340/
570
16
100
140
475
2,700
-
XH-126
-
XS-AV
22.5/47
3,200
E7239GX
1.0/2.0
21/42.5
125
340/
570
16
100
140
475
2,700
-
-
XH-150
XS-AV
22.5/47
3,200
E7843X
0.6/1.2
20/46
150
370/
760
12
111
150
475
2,700
XH-121
-
-
XS-BA

(384KB)
22/50
3,200
E7242X
0.6/1.5
16.5/47
125
290/
800
14
142
200
475
2,700
XH-121
-
-
XS-RA

(422KB)
18/50
3,200
E7242FX
0.6/1.5
16.5/47
125
290/
800
14
142
200
475
2,700
-
XH-126
-
XS-RA
18/50
3,200
E7242GX
0.6/1.5
16.5/47
125
290/
800
14
142
200
475
2,700
-
-
XH-150
XS-RA
18/50
3,200
E7876X
0.6/1.2
20/50
150
300/
700
12
163
230
750
2,700
XH-121
-
-
XS-RA

(384KB)
22/54
3,200
E7833X
0.3/0.6
7.4/20
125
100/
250
10
210
300
870
2,700
XH-183
-
-
XS-BB

(269KB)
8/22
3,200
E7252X
0.6/1.2
14.2/40.6
150
300/
800
12
210
300
475
2,700
XH-106V
-
-
XS-RA/
XS-AL

(388KB)
16/44.6
3,200
27/75
400/
1,000
9,700
E7252FX
0.6/1.2
14.2/40.6
150
300/
800
12
210
300
475
2,700
-
XH-181
-
XS-
RA/
XS-AL
16/44.6
3,200
27/75
400/
1,000
9,700
E7252GX
0.6/1.2
14.2/40.6
150
300/
800
12
210
300
475
2,700
-
-
XH-180
XS-
RA/
XS-AL
16/44.6
3,200
27/75
400/
1,000
9,700
E7884X
0.6/1.2
20/50
150
300/
700
12
210
300
870
2,700
XH-121
-
-
XS-AL

(448KB)
22/54
3,200
E7884FX
0.6/1.2
20/50
150
300/
700
12
210
300
870
2,700
-
XH-
126
-
XS-AL
22/54
3,200
E7884GX
0.6/1.2
20/50
150
300/
700
12
210
300
870
2,700
-
-
XH-150
XS-AL
22/54
3,200
E7886X
0.7/1.3
15/36
150
280/
550
16
210
300
870
2,700
XH-121
-
-
XS-AL

(413KB)
17/40
3,200
E7886FX
0.7/1.3
15/36
150
280/
550
16
210
300
870
2,700
-
XH-
126
-
XS-AL
17/40
3,200
XRR-3331X
0.6/1.2
20/50
150
300/700
12
210
300
870
2700
XH-121
-
-
XS-AL

(435KB)
22/54
3200
32/78
400/1000
9700
XRR-3332X
0.6/1.2
18/42
150
300/600
14
210
300
870
2700
XH-1023
-
-
XS-AL

(871KB)
20/46
3200
Notes

Rotation 2700 (min-1) = 50Hz drive, 3200 (min-1) = 60Hz drive, 9700 (min-1) = 180Hz drive