Microwave Tubes / Power Grid Tubes
Power Grid Tubes
Power grid tubes are used in radio communications, transmitters for broadcasting and other applications, and in industrial high-frequency apparatus. Canon Electron Tubes & Devices' products service an extremely wide range of frequencies, from direct current to several 100 MHz, and power of up to several 100 kW.
Canon Electron Tubes & Devices supplies the market with forced-air-cooled triodes, water-cooled triodes and vapor-cooled triodes.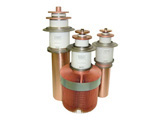 Lineup
Triodes <Plate Loss: Less than 1000W>
Click photo to enlarge.
Triodes <Plate Loss: Less than 1000W> Lineup Table
Image
Model Name
Heater or Filament
Trans
Con
duct.
(mS)
Amp.
Factor
μ
Max
Freq.
(MHz)
Max.Plate Ratings
Output
Power
(kW)
Cool
ing
Down
load
Volt
(V)
Curr.
(A)
Volt.
(kV)
Curr.
(mA)
Diss.
(W)
6T58RA
5
22
4.5
17
110
6
650
800
2.4
FA

(961KB)
-
E3061D**
6.3
32
6.5
45
50
7.5
750
800
2.5
FA
-
Notes

Type**: For maintenance use only
FA : Forced Air Cooling C : Conduction Cooling
Triodes <Plate Loss : 1kW - less than 10kW>
Triodes <Plate Loss : 1kW - less than 10kW> Lineup Table
Image
Model Name
Heater or Filament
Trans
Conduct.
(mS)
Amp.
Factor
μ
Max
Freq.
(MHz)
Max.Plate Ratings
Output
Power
(kW)
Cool
ing
Down
load
Volt
(V)
Curr.
(A)
Volt.
(kV)
Curr.
(A)
Diss.
(kW)
7T69RB
12.6
35
13
21
110
8
2
4.5
9
FA

(938KB)
7T84RB
6.3
22
4.5
17
110
7
0.8
1.5
3.8
FA

(930KB)
7T85RB
6.3
35
5
21
110
8
1
2.5
5.1
FA

(974KB)
E3062E
6.3
32
6.3
25
70
7.5
0.75
1.5
3.4
FA

(989KB)
8T20B
12
40
11
21
45
12
2.5
10
18
W

(900KB)
8T20RB
12
40
11
21
45
12
2.5
10
16
FA

(874KB)
8T30A
12
40
6.6
50
30
12
2
6
11
W

(998KB)
8T30RA
12
40
6.6
50
30
12
2
6
11
FA

(0.99MB)
8T64B
12
40
8
20
45
12
2
10
13
W

(900KB)
8T64RB
12
40
8
20
45
12
2
6
13
FA

(909KB)
8T69JB
12.6
35
12
21
110
8
2
6
9
W

(970KB)
8T85RB
12
40
11
21
40
12
2.5
10
17.5
FA

(907KB)
E3069
12.6
35
13
21
110
8
2.2
5
11
FA

(939KB)
E3130
12.6
45
17
21
110
8
2.5
6
13
FA

(926KB)
E3185
6.3
30
6.5
25
110
7.5
0.8
1.5
4.5
FA

(925KB)
Notes

FA : Forced Air Cooling W : Water Cooling
Triodes <Plate Loss : 10kW - less than 100kW>
Triodes <Plate Loss : 10kW - less than 100kW> Lineup Table
Image
Model Name
Heater or Filament
Trans
Conduct.
(mS)
Amp.
Factor
μ
Max
Freq.
(MHz)
Max. Plate Ratings
Output
Power
(kW)
Cool
ing
Down
load
Volt
(V)
Curr.
(A)
Volt.
(kV)
Curr.
(A)
Diss.
(kW)
8T25RB
8
110
24
20
40
14
4.5
15
31
FA

(1.05MB)
8T25A
8
110
24
20
40
14
4.5
20
31
W

(984KB)
8T61B
8
280
30
20
40
14
8.5
35
57
W

(1.00MB)
8T72C
8
180
16
20
40
14
6.5
25
40
W

(0.99MB)
8T85B
12
40
11
21
45
12
3
13
22
W

(901KB)
8T87C
8
180
16
20
40
14
5
30
42
W

(1.07MB)
8T87RC
8
180
16
20
40
14
5
20
35
FA

(1.14MB)
9T64B
12
320
70
30
25
15
15
75
137
W

(919KB)
9T71C
11
285
38
30
25
17
13
75
130
W

(905KB)
9T94A
13
320
70
30
25
16
16
80
170
W

(914KB)
E3116A
8
280
30
20
40
14
8.5
25
57
FA

(1.16MB)
E3132
8
280
33
20
45
14
8.5
30
60
W

(888KB)
Notes

FA : Forced Air Cooling W : Water Cooling
Triodes <Plate Loss: Over 100kW>
Triodes <Plate Loss: Over 100kW> Lineup Table
Image
Model Name
Heater or Filament
Trans
Conduct.
(mS)
Amp.
Factor
μ
Max
Freq.
(MHz)
Max.Plate Ratings
Output
Power
(kW)
Cool
ing
Down
load
Volt
(V)
Curr.
(A)
Volt.
(kV)
Curr.
(A)
Diss.
(kW)
9T38A/
LD961
18.3
315
90
40
2
15
20
120
240
W

(903KB)
-
9T40**
18
315
80
40
2
15
20
150
240
V
-
-
9T83**
18
315
80
40
2
15
20
150
240
V
-
E3050/
9T75
17.5
470
130
30
2
15
40
250
450
W

(976KB)
E3085
15.8 -
18
450
130
30
2
15
40
250
320
W

(973KB)
-
E3109**
18
315
80
40
2
15
20
150
240
V
-
Notes

Type**: For maintenance use only
W : Water Cooling V : Vapor Cooling