X-ray Tube
Analytical X-ray Tubes
Below information is purpose for of development, design and production of industrial inspection systems by implementing our company's products. Technical and regulatory confirmation/verification is necessary before purchasing and using of these products.
Ever since X-ray diffraction was discovered, X-ray analysis has been used in research on crystal structure, qualitative and quantitative analysis of elements and compounds, stress measurement, X-ray spectroscopy, etc. Canon Electron Tubes & Devices provides ANALIX (Canon X-ray tubes for analytical applications) with various targets appropriate for use with a wide range of applications.
ANALIX for X-ray diffraction are used in recording analysis systems and various camera systems. Equipped with a grounded water-cooled anode and four radiation windows, line focus is available through one pair of windows, and point focus through the other pair.
ANALIX for stress measurement make practical use of X-ray diffraction, and use monochromatic X-rays to measure the internal stress of a material by observing stress-induced deviations in lattice spacing.
The cathode glass part of ANALIX for fluorescence spectroscopy is fitted in a shock-proof, X-ray-proof oil-filled housing. Given that all ANALIX of this type have a water-cooled anode and a very thin vacuum-sealed beryllium window, they provide high X-ray transmittance to a wide range of X-ray wavelengths.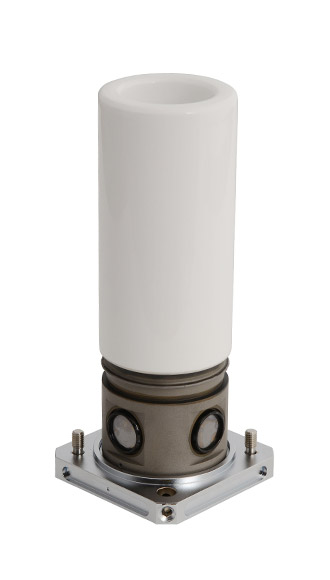 Lineup
Click photo to enlarge.
Analytical X-ray Tubes Lineup Table
Image
Model
Name
Target
Material
Focal
Spot
(mm)
Max.
Rating
(kW)
Max.
Voltage
(kV)
Max.
Current
(mA)
Circuit
Ground
Target
Angle
(°)
Be
Thickness
(mm)
Dimensions
Length
x
Diameter
(mm)
Down
load
A-26L
Cr/Cu
0.4×8
1.5
60
40
C
AG
0
0.3
230×65

(209KB)
Fe
0.9
Co
1.2
Mo/W
2
A-40
Cr/Cu
1×10
2
60
50
C
AG
0
0.3
217×65

(182KB)
Fe
1.5
Co
1.8
Mo/W
2.4
A-41L
Cr/Cu
1×10
2
60
50
C
AG
0
0.3
230×65

(210KB)
Fe
1.5
Co
1.8
W
2.4
-
A-140-Cu
Cu
0.4×12
2.2
60
50
C
AG
0
0.3
188×63

(211KB)
AFX-66D
Mo/W
7×7.5
3
60
80
C
AG
26
1
498×89

(189KB)
Cr
0.3
E7340X
Rh
Φ14
3
60
100
C
CG
90
0.127
459×103

(196KB)
-
E7341X
Rh
Φ14
3
60
100
C
CG
90
0.06
459×103

(196KB)
-
E7530X
RH
Φ17
4.0
60
150
C
CG
90
0.05
459×103

(231KB)
Notes

Circuit : C=DC
Ground : AG=Anode ground, CG=Cathode ground