X-ray Tube
Industrial X-ray Tubes
Below information is purpose for of development, design and production of industrial inspection systems by implementing our company's products. Technical and regulatory confirmation/verification is necessary before purchasing and using of these products.
Industrial X-ray tubes are marked "I" and a variety of tubes are manufactured for each of the applicable fields (nondestructive testing, coating thickness gauging, etc.) Vacuum envelopes for industrial X-ray tubes are made of glass or ceramic. Ceramic envelopes are particularly strong mechanically, and this enables Canon Electron Tubes & Devices to offer X-ray generators with outstanding portability and operability.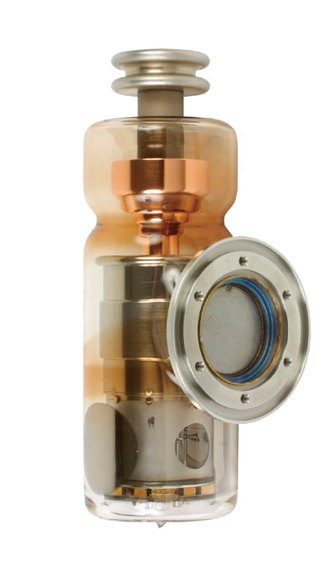 Lineup
Click photo to enlarge.
Industrial X-ray Tubes Lineup
Image
Model
Name
Target
Material
Focal
Spot
(mm)
Max.
Rating
(W)
Max.
Voltage
(kV)
Max.
Current
(mA)
Circuit
Ground
Target
Angle
(°)
Be
Thickness
(mm)
Dimensions
Length
x
Diameter
(mm)
Appli
cation
Down
load
-
I-221
W
1
150
50
5
C
CG
20
0.5
176×40
F

(181KB)
-
I-2118B
W
1×0.7
55
55
1
C
N
20
Glass1.7
96×30.5
F

(157KB)
-
E7690
W
1×1
350
75
8
C
CG
20
1
185×62
F

(225KB)
I-2112B
Rh
0.8
50
50
1
C
CG
33
0.05
96×33
A

(182KB)
I-2113A
Mo
0.15
75
50
1.5
C
CG
10
0.05
96×33
A,T

(163KB)
-
I-2115B
W,Mo
0.15
75
50
1.5
C
CG
10
0.2
96×33
A,T

(168KB)
I-2122
W
0.15x0.1
50
50
1
C
CG
16
0.2
96×30.5
A,T

(172KB)
I-2123
W
0.1
50
60
1.2
C
CG
10
0.2
96×30.5
N

(166KB)
-
I-317
W
0.1
50
100
0.83
C
CG
10
0.5
180×62
N

(170KB)
-
I-318
W
0.8
300
100
5
C
CG
25
1.5
180×59
N

(163KB)
-
I-513
W
0.8
300
160
7
C
CG
25
1.5
180×59
N

(197KB)
Notes

Circuit : C=DC1, S=Self Rectification
Ground : AG=Anode Ground, CG=Cathode Ground, N=Center Ground
Application : T=Thicknessmeter, A=Analysis, N=Nondestructive, F=Food Inspection
*1 : Focusing bias, *2:Ceramic Tube, *3 : Input peak power(1pulse), *4:Pulse