Radiation Detectors
Beam Loss Monitors (BLM)
A beam loss monitors (BLM) is a detector that makes use of the ionization effect of charged particles or gamma-rays on an internal gas. Very high sensitivity and short response times make BLMs suitable for beam protection systems that are necessary at proton accelerators and heavy ion beam accelerators etc.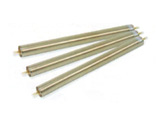 Features
High sensitivity and short response time
Realization of sensitivity 1,000 times that of conventional ionization chambers and a microsecond response time makes it ideal for machine protection systems.
Improved operating life and shock resistance
Chemical cleaning and high-temperature exhausting under vacuum condition on the detector completely eliminates impurities. Dual tube structure substantially improves noise-resistance and facilitates measurement modes ranging from pulse through continuous.
Lineup
Beam Loss Monitors Lineup Table
Image
Tube Type
Enclosed Gas
Gas Pressure
Outer
Shell
Length
Diameter
Effective Length
Connector
Maximum Voltage
Down
load
-
E6876-
1000
Ar+
additive gas
approx. 1atm
Stainless steel
1000
mm
50.8
mm
900
mm
SHV, BNC
2,000
VDC
-
-
E6876-
600
600
mm
500
mm
-
-
E6876-
400
400
mm
300
mm
-