Radiation Detectors
Ionization Chambers
Below information is purpose for of development, design and production of industrial inspection systems by implementing our company's products. Technical and regulatory confirmation/verification is necessary before purchasing and using of these products.
An ionization chamber is a detector that makes use of the ionization effect of X-rays or gamma-rays on an internal gas.Ionization chambers are suitable for use in high radiation environments.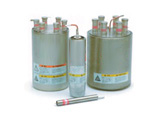 Features
Long life and high stability
Chemical cleaning and high-temperature exhausting under vacuum condition on the detector completely eliminates impurities.Strict management of the filler gas.
Improved shock resistance
Lineup
Ionization Chambers Lineup Table
General Specifications
Window Specifications
Electrical Specifications
Image
Tube Type
Fill Gas
Housing Material
Gas Pressure
Length
Diameter
Effective Length
Operating Tempe-
rature
Material
Thick-
ness
Dimen-
tion
Operating Voltage Range
Maximum Voltage
Down
load
-
E6854
100
%Xe
SGP
approx. 0.8MPa
209
mm
113
mm
150
mm
-20°C ∼
70°C
Beryllium
2.0
mm
Φ70
mm
200 -
700VDC
1500
VDC
-
-
E6861
Al
approx. 0.8MPa
220
mm
50
mm
167
mm
-
1.0
mm
-
300 -
700VDC
-
-
E6866A
SUS304
approx. 1.5MPa
174.5
mm
15
mm
100
mm
-20°C -
70°C
-
0.5
mm
-
300 -
700VDC
-
-
E6866C
approx. 3.0MPa
-
-
M4952F
SGP
approx. 0.4MPa
220
mm
140
mm
50
mm
SUS304
0.5
mm
Φ132
mm
100 -
300VDC
-