X-ray Tube
X-ray Tube Assemblies for Mammography Systems
Below information is purpose for of development, design and production of medical device systems by implementing our company's products. Technical and regulatory confirmation/verification is necessary before purchasing and using of these products.。
Our rotating anode X-ray tubes for mammography are self-biased focusing systems with two focal spots.
Given that molybdenum is used for the rotating anode target and low X-ray absorption beryllium for the window, K-edge energys from the molybdenum target are effective in producing contrast in soft tissue in the soft X-ray area.
Use of a self-biased focusing system facilitates minute optimizing adjustment for each exposure and sharp magnified images.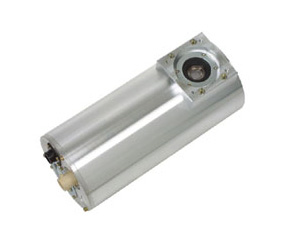 Lineup
Click photo to enlarge.
X-ray tube assemblies for mammography systems Lineup Table
Image
Type
Focal
Spot
(mm)
Max.
Rating
(kW)
Max.
Voltage
(kV)
Max.
Current
(mA)
Circuit
(1)
Angle
(degree)
Anode
Down
load
Dia
(mm)
HU
(kJ)
Cooling
Rate
(W)
Rotation
(min-1)
E7290AX
0.1/0.3
1.0/3.0
39
35/110
CG,C
10/16
86
210
525
9,700
-
Notes

All tubes are cathode-grounded; C--Constant voltage